"What's YOUR favourite of all the Byron Bay Beaches?"
That's a tough question!

Byron Bay Beaches are ALL Stunning.
Byron is Australia's most easterly town, nestled in an area of natural beauty as diverse as it is breath taking.
You'll find yourself in close proximity to magnificent beaches whether you immerse yourself in the cosmopolitan atmosphere of the bustling 'Bay', or get away from it all with a stay in the Byron Hinterland.
Have a look on our accommodation pages to see where you would like to stay and browse our village pages, hinterland pages and various activities pages to decide on the kind of holiday that is right for you.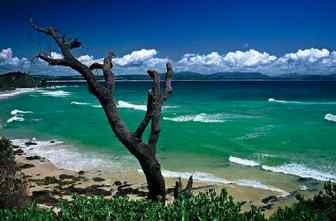 The stunning beaches are a reflection of the whole area - there's always something more to explore just around the next bend.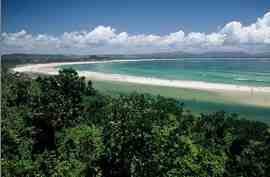 Just minutes from "the Bay" you'll find pristine rainforest, secluded waterfalls, rolling green hills and panoramic views.
On our site you will find information about Byron Bay, it's beaches, it's hinterland, villages and a mountain of exciting things to do and see.
Need help finding what you're looking for ? Type in what you want to find and mark the byron-bay-beaches.com box to search for something within this site, or the web box to search the entire web, then click search.

Would you like to know where to get
the best Fish and Chips in town ?


Be as energetic or relaxed as you like when you come to Byron Bay. Take a day tour to the magnificent National Parks and Nature Reserves; go horse riding, bush walking or cycling; wander through colourful markets; head out to Nimbin, the alternative lifestyle capital of Australia; indulge yourself at one of the village cafes or quaint country pubs; or just find the perfect picnic spot, enjoy the peace and tranquility and let the world go by.
The Northern Rivers is a diverse region with something for everyone.



So whether it's your first time here or you're an old friend, we're sure there is much you have yet to discover..
The Byron Bay Blog keeps you up-to-date with all additions and changes to the byron-bay-beaches.com web site. Subscribe here.
Welcome to Byron Bay, the most easterly village on the Australian mainland
Whether you want to stay in the heart of Byron town centre, or lose yourself in the hinterland, there is Byron Bay Accommodation to suit everyone
Some of the best beaches in the world are Byron Bay Beaches and some are known only by locals
Map of Northern Rivers Region and surrounding areas for exploring the Byron Bay Hinterland
Have a look at a Map of Beaches Byron - Ballina
Find where you want - when you want it - with a map of Byron Bay NSW
We'd like to share with you where our best Australian beaches are located. There are many beaches to choose from but a select few are just that little bit extra special.
World Beaches - Top beaches of the world - Where can you find some of the best beaches and the most unreal, stunning tropical paradises imaginable? We aim to find out.
There are many beautiful beaches around the world so we thought we would put together some pictures of ocean scenes for your pleasure and enjoyment
We have a hunch that Ben Harper quite likes Byron Bay, Australia
What is there to do in Byron Bay? The list of Byron Bay things to do is seemingly endless and very surprising considering the size of the place
Although the beaches and ocean are a major attraction to the the area, there are plenty of Byron Bay activities on land to keep you occupied
With over 300 stalls at the Byron Bay Market, this local community arts and crafts market is on the 1st Sunday of every month
What's the Byron Bay weather like for today and the rest of the week's forecast.
There is a wide range of cafes and restaurants to choose from in Byron Bay. You could stay for 2 months and eat somewhere different every day..
Check out some of these Byron Bay Activities thanks to Byron Bay Tourism
Theres more to the Byron and Ballina Shire than Byron Bay, with many towns and villages each individual, special and worth a look
There are too many cafes and restaurants to mention them all - but you will find most nationalities represented and catered for in Byron Bay restaurants and cafes
Where to go for a long cold one or a sundowner near the beach - Byron Bay has a few pubs and places to wet your whistle
Full of natural wonders to be explored and enjoyed and being a melting pot of surf culture, alternative philosophies and hedonistic indulgence, the Byron Bay hinterland is just waiting to be explored
If you would like to contact us with any comments, suggestions or questions you might have, we'd love to hear from you
Have a look at some of our favourite sites on the internet. All links here are included because of their quality and content and we think they're well worth having a look at.
There are a number of Byron Bay Markets to choose from, as well as the more famous one held on 1st Sunday of the month, there are various other markets held across the region and local area