Byron Bay Farmers Market
---
---
The Byron Bay Farmers Market is becoming well established in and around the region. At one of the many local Farmers Markets, the customers can chat to the farmers directly about the produce and farming methods that they have used. Some of the market stalls are incorporated into the weekend markets, but there are also regular separate week day stalls scattered throughout the region.
The produce changes with the seasons, but there are some staples that are available year round including: sugar cane juice freshly juiced on site, macadamia nuts - (muesli, oils and spreads), smoked fish and prawns farmed in Ballina River, prime cuts of beef, locally made bacon & sausages, organically grown turkeys, chickens & their eggs, coffee, breads, olives, honey, pestos, marinade, dressings, jams & chutneys, sprouted seeds & nuts, fresh squeezed wheat grass as well as fresh flowers, fruits, vegetables herbs & spices. Everything is always fresh and well priced.
Another great way to pick up fresh produce is on country drives - look out for the roadside stalls, where fresh fruit and veggies are sold direct at the farm gate.



photos courtesy of byronfarmersmarket.com.au



Most markets run from approx. 8am to 11am.

When
Name
Where
Normal Times
More Info
Every Tuesday
Rainbow Region Organic Markets
Lismore Showground
8am-11am
6628 2391
Every Thursday and Saturday
Byron Bay Farmers Market
Butler Street Reserve
8am-11am
6687 1137
Every Saturday
Bangalow Farmers Market
Bangalow Hotel Carpark
8am-11am
6687 1137
Every Saturday
Uki Farmers Market
Uki Community Centre
8am-12.30pm
6679 9026
Every Saturday
Lismore Farmers Market
Lismore Showground
8am-11am
6621 5916
Every Saturday
Rainbow Lane Produce & Craft Market
Nimbin
8am-11am
6689 1714 or
0429 194 248
1st and 3rd Saturday
Currumbin Farmers Market
Currumbin Wildlife Sanctuary
7am-11.30am
rain or shine
Coralie Harris
0404 787 865
2nd and 4th Saturday
Mudgeeraba Farmers Market
Mudgeeraba Showgrounds
6am-11am
Ella Parsons
(07) 5525 3525 or
0401 369 869
1st and 3rd Sunday
Banora Point Farmers Market
Club Banora
7am-11am
6672 2874
---
---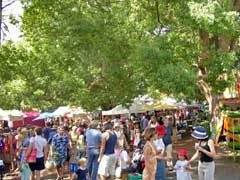 ---
If you have any updates to the above information, such as new markets starting up, changes to times and dates of existing markets or change of contact details and phone numbers - or for any other matter, we'd love to hear from you.


Leave Byron Bay Farmers Market and return to Byron Bay Markets


Byron Bay Beaches Home | Byron Bay Beaches | Australian Beaches | World Beaches | Links | Contact us