The Byron Bay Hinterland is Breathtaking
---
---
Rolling green hills, rock walls, pockets of forest - The Byron Bay Hinterland is reminiscent of Ireland at times..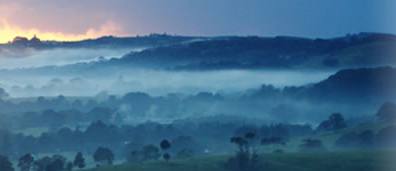 ---
In the lush green Byron Bay hinterland, the easygoing towns of Lennox Head, Ballina and Brunswick Heads, combined with the art loving villages of Mullumbimby and Bangalow, create a casual laid-back vibe of north coast retreats with just a touch of city chic.
This region of the Far North Coast is known as both the Rainbow Region and Summerland -
With the average summer temperature being 21°C - 28°C, and the average winter temperature a balmy 15°C - 21°C, - this gives you a very agreeable climate somewhere between temperate and sub-tropical - which means you can enjoy a diverse range of outdoor pursuits and leisure activities all year round.
The Byron Bay Hinterland and region is full of natural wonders to be explored and enjoyed - being a melting pot of surf culture, alternative philosophies and hedonistic indulgence, just waiting to be explored.


---
Explore the Byron Bay Hinterland - Some Ideas
Bushwalking
Minyon Falls and Mount Warning are great places to go bushwalking, but there are many other areas such as Quandong Falls for more intrepid walkers. Check out the local walking guides.

Driving
Some gorgeous drives around the Byron Bay hinterland - a few roads to travel down include - Coolamon Scenic drive - Friday Hut Road - Whian Whian Forest Drive - head into the hills behind Mullumbimby - if you drive out towards Lismore or Nimbin in the early morning before the sun gets too high in the sky, you'll see mist covered valleys with hills breaking through like ships passing in the night - we could go on and on..

Look out for
Koalas - rare to see one but they are there and you might be lucky.
Swimming Holes - hidden around the area - almost as hard to find as a koala..
Rosellas - Beautiful parrots of red and green with calls like a mobile phone
Bell Birds - more likely to hear them with their distinctive sound like a....bell
Whip Birds - again, more likely to hear them with their distinctive 'whoo-wup'
Roadside Stalls - selling local farm produce from honey to macadamias to avocados to fresh roast coffee... it doesn't come much fresher or tastier(or cheaper) than this..
Snakes and lizards - Beware - on sunny days they love the heat of the road, we're forever stopping and moving them along before they're mincemeat.


Picnics
Pack a picnic to take on your drive as you're sure to find a few spots you'll want to stop and savour - Rocky Creek Dam, near Dunoon is a great place to stop for lunch with picnic tables and toilet facilities. It's the main water catchment for the area and has a boardwalk taking you through the forest and along it's grassy banks - just one example - or Scarabelloti's Lookout on Coolamon Scenic Drive. Frank Scarabelloti, a resident of the shire donated this land with it's stunning views to be enjoyed by all. Dusk is especially good here.
That's enough from us. You're on your own. Go and discover the Byron Bay Hinterland for yourself.
---
What are you waiting for?
So if you can bear to drag yourself away from the Byron Bay beaches, we highly recommend checking out the local area.
Because the Northern Rivers region gets so much rain, the area is pretty much guaranteed to be lush and green.
You will no doubt find plenty to do and see.

So whether you want to climb Mount Warning and be the first to welcome the Sun on the Australian Mainland - or swim beneath a Waterfall - or wander down a rainforest trail. It's all here waiting for you..
So just get in your car and head off exploring, you will no doubt discover some beautiful countryside.
The local towns and villages in the area are worth checking out.
We've also listed a few more of our favourite places and things to do in the Byron Bay hinterland.
---
Places to go exploring in the Byron Bay Hinterland
Mt Warning -Extinct Volcano - Bushwalking and picnic areas - stunning 360° views of the area from the top


Minyon Falls - and Rummery Park - Bushwalking and picnic areas


The Crystal Castle - Crystals, maze, café - via Federal and Mullumbimby - 6684 3111


The Macadamia Castle - one for the kids just off the Pacific Hwy at Knockrow - Café, mini golf, petting Zoo - 6687 8432


Victoria Park - A small pocket of Remnant 'Big Scrub' rainforest.

Amaze 'n' Place – maze, cafe and puzzles, Wardell Rd, Alstonville - 6628 7518
House With No Steps - cafe, nursery, working farm and craft shop providing employment for people with disabilities – Alstonville - 6628 0610
Alstonville Garden Centre and Cafe - 6628 7866
Thursday Plantation - Tea Tree Oil Plantation with Sculpture gardens and Exhibition – Ballina -6686 7273
Some more Byron Bay Activities in and around Byron Bay
Some more Byron Bay Activities on Land
---
Nature and Outdoor Pursuits in the Byron Bay Hinterland
Minyon Falls At Rummery Park - Bushwalking and Picnic areas
Booyun Nature Reserve - Lismore – Remnant Rain forest
Brunswick Valley Heritage Park - Riverside Walking Track in
Mullumbimby along the Brunswick River.
The Rocky Creek Dam - bush walking trails and picnic areas - near Dunoon.
Protestors Falls and Terania Creek- rainforest walks and picnic areas.
Tucki Tucki Nature Reserve – Koalas - Woodburn Rd.
Victoria Park - Alstonville - A small pocket of Remnant 'Big Scrub' rainforest.
---
Some more things to do in the Byron Bay Hinterland
Watch surfers catch the waves aongside dolphins from the Pat Moreton Lookout, just south of Lennox Head.
Take a kayak tour of the estuarine wetlands of Ballina.

Attend Sunday market day at Bangalow, Byron or the Channon.

Swim in the waterhole at Killen Falls , a rainforest oasis near Fernleigh in Ballina Shire.
Stop at one of the many roadside stalls for fresh roasted coffee, avocados, macadamias, fresh fruit and veggies and more.
Go sky-diving, hot air ballooning, gliding or paragliding.

Take a cruise on the Richmond River from Ballina.
Go on a Byron Bay Wildlife Tour - Wildlife tours in the hinterland - 0429 770686
Go on a guided 4WD tours - Forgotten Country Ecotours - 6687 7845
Northern Rivers Kayak tours, Evans Head - 6682 6229
Koala Rescue - Southern Cross Uni – Lismore - 6622 1233
Moo Moo Stitches - Patchwork and craft workshops, fabrics, gifts - Mooball - 6677 0200
Bangalow Cooking School - With chef Leah Roland and a calendar of guest chefs - 6687 2799
---
Some Art Galleries and Specialist shops in the Byron Bay Hinterland

Alstonville
Barratt Galleries - Main Street
Black Apple Gallery - Main Street
Crawford House - Historical Museum
Gingerlily Crafts - Arts and Crafts - Main Street
Kolinda Gallery - Bugden Avenue
Ballina
Maritime Museum - Regatta Avenue - 6681 1002
Readers Delight Book Exchange - Riverwalk Arcade - 6686 4739
Summerland Antiques, Cnr. Smith Drive & Pacific Highway - 6686 0211
Bangalow
Barebones Artspace - 44 Byron Street.
Country House Antiques - 62 Byron Street - 6687 1601
The Rug Shop & Asian Antiques - Byron Street
Windhorse Gallery of Tibetan Art - Byron Street
CWA Country Crafts - Byron Street
Bangalow House Antiques and Restoration - 6687 2890
Heath's Old Wares & Collectables Station Street - 6687 2222
Bangalow 2479 Antiques - Byron St - 6687 2733
Heritage House Museum
Uncle Peter's Books - Post Office - Byron Street - 6629 1056
Vintage Eastern - Chinese furniture and antiques - 87 Byron Street - 6687 2629
Lazy Bones Emporium - old wares, fabrics - Masonic Hall, Station Street
Billinudgel
Clem's Cargo – secondhand furniture - 6680 3433
Brunswick Heads
The Bookshop Gallery, Park St - 6685 1177
Mina Mina Art Gallery, 32 Mullumbimbi Street - 6685 0226
Polos Interiors – jewellery, textiles and antiques - 6685 1533
Clunes
Pegs'n Pearls Collectables, Main Road - 6629 1722
The Front Yard Nursery & Old Wares - Main Road - 6629 1600
Eltham
Village Gallery & Trading Co - 6629 1649
Lismore
Regional Art Gallery - 131 Molesworth Street - 6622 2209
Mooball
Moo Moo Cafe - Tweed Valley Way
Mullumbimby
Cedar House Antiques - 140 Dalley Street - 6684 2653
The Book Barn - 98 Dalley Street.
Art Piece Gallery - 105 Stuart Street
The Laughing Buddha - giftware and artworks from the Far East - 6684 2982
Timber Slab Factory - furniture, sculpture - 6684 3661
Murwillumbah
Tweed River Art Gallery - Tweed Valley Way - 6670 2790
Newrybar
Newrybar Art & Asian Gallery.
Country House Antiques - 6687 0663
---
Some annual events in Byron Bay and the Hinterland
East Coast Blues & Roots Music Festival - Byron Bay - during Easter

All Girls Surf Showdown - Lennox Head - in June

Byron Bay Writers Festival - Byron Bay - in August

Fatherhood Festival - Byron Bay - in September
East Coast Sculpture Show - Thursday Plantation - near Ballina - from September to January

Boxing Day Races - Ballina Racecourse - on Boxing Day
---
Exploration Holidays
Much as we love beautiful beaches, we also love exploring the hinterland and even taking off on exploration holidays and exploring new areas and cultures, you get a much better feel for a country and an area when you get off the beach and take to the road and hills.
So we thought we'd throw in a few places here to try an wet your appetite as well, there's so many hidden places to explore, sometimes we just need someone to say 'have you thought about visiting...'


Kenya Safari Holidays - Lodge and budget camping wildlife safaris to Maasai Mara and Amboseli game reserve. Plus luxury tented flying safaris, beach safaris to Mombasa and Zanzibar. East Africa safaris, hotel booking, Mount Kilimanjaro and Kenya climbing.




---
---
Return to Byron Bay Introduction

Leave the Byron Bay Hinterland and return to Byron Bay Beaches Home


Byron Bay Beaches | Australian Beaches | World Beaches | Contact us