Julian Rocks Marine Reserve
---
---
Located just 2.5 kilometres off Byron Bay, Julian Rocks Marine Reserve consists of 2 small rocky islands, surrounded by one of the top ten diving spots in Australia.
---

The 2 rocky peaks were named by Captain Cook in 1770 - is there anything in Australia that man didn't name!?!
He named them Julia and Juan after his nephew and niece.
Julian rocks are the remains of a volcanic eruption from more than 20 million, yes 20 million years ago. They are mostly sedimentary rock and form an extension of Cape Byron.
Julian Rocks Marine Reserve provides habitat, shelter and food to over 500 species of marine life.


---
In 1982 Julian Rocks and the surrounding area was established as a marine reserve - mostly brought about by pressure and lobbying from locals. Julian Rocks Marine Reserve now falls under the 'Fisheries and Oyster Farms Regulations' and no disturbing, injuring or removal of any fauna is allowed within half a km of the rocks.
The marine reserve is home to a diverse range of life and provides an important habitat for rare species such as the grey nurse shark, leopard sharks, different nudibranchs (mollusks) and Wobbegong (carpet shark) to name a few.


---
Grey nurse sharks may look scary but in fact are harmless.


---
Julian Rocks provides important safe nesting grounds for seabirds and the area is a refuge for humpback whales as they migrate past, especially cows, accompanied by their calves on the journey back down south.


---
Incredible range of Marine Fauna
There are many seasonal visitors to the reserve and the changing water temperatures mean it can support a diverse range from sub-tropical to temperate.
Blue tang visit in spring, with big eye trevally and leopard sharks in summer when the water is at it's warmest. Towards the end of summer and early autumn manta rays are an exciting sight and in winter the grey nurse sharks come in, most likely to breed.
Leopard sharks are also common at Julian Rocks.
---
Many rare species call the reserve home with leaf scorpion fish, white banded anemone fish, pineapple fish, blue devil fish and noumea labouti - a species of nudibranch which is an underwater snail with intense coloring.


---
Diving julian rocks Marine Reserve
There are a few dive operators who you can go diving with at Julian Rocks and fortunately they realize the importance of this reserve.
Special moorings have been put in place so that anchors are not needed - anchors cause untold damage to sea floors and disturb habits - because of license requirements, there is no less fear of over-diving taking place.
Below are the main diving centres for Julian Rocks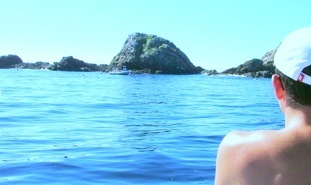 sundive.com

byronbaydivecentre.com.au





---
Myths and Legends
Legend has it among the Bundjalung people that a jealous husband threw a spear at a canoe containing his wife and her lover. The mighty throw broke the canoe in 2 and it sank to the bottom of the ocean. Only the back and front of the canoe are still visible sticking up out of the water creating what we now call Julian Rocks - all sounds very Giants Causeway to me...
---
---
Return to Byron Bay Introduction

Leave Julian Rocks Marine Reserve and return to Byron Bay Beaches home

Byron Bay Beaches | Australian Beaches | World Beaches | Contact us