Kings Beach
Kings Beach is a beautiful beach. It is surrounded by National Park. You need to walk either round the headland from Tallow Beach or down through the rain forest to get here.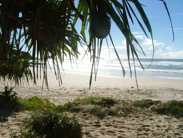 Make sure you get down
there early if you want to
secure one of the better
shady spots underneath
the Pandanus trees.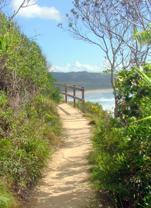 The walk down is delightful,
walking through natural
rainforest over a well worn
path, with occasional ocean
glimpses letting you know
what lies ahead, bush turkeys
wandering around, the odd
wallaby if you're lucky, then
you suddenly 'arrive as the
forest canapy opens up to
one of the best secluded
beaches on the North coast.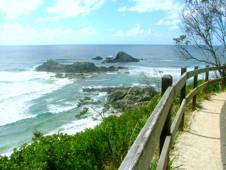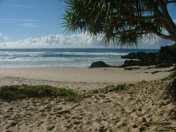 It might look secluded and empty, but as you make your way along the beach, you may discover that a lot of the prime shaded real estate has already been snapped up for the day...I did warn you to get here early...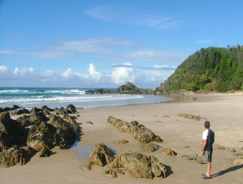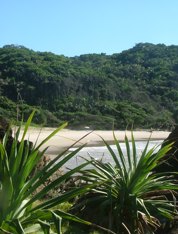 The walk down is not that far - it takes roughly 10 minutes, but it is a bit steep in places so don't bring loads of stuff you won't need but there are no shops or supplies to be had nearby so make sure you bring some water and food and sunscreen if you want to stay down here a while....and you probably will..it's a bit special.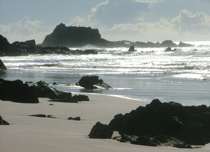 Kings Beach is a horseshoe shaped beach with rocky outcrops either end, grassy sand dunes scattered throughout and along the back, giving way to shady Pandanus trees and rainforest cover, no buildings, no shops, no mobile phone reception...Heaven!!!



You don't have to worry too much about your Speedos if you don't want to...in fact you might look more out of place in your speedos than out of them and if it feels like there's a disproportionate number of men down here, you'd be right.



A lot of people spend the day down here, wandering back up the rain forest pathway as the sun sets, fireflies lighting their way back up the hill, it's a great way to spend a day.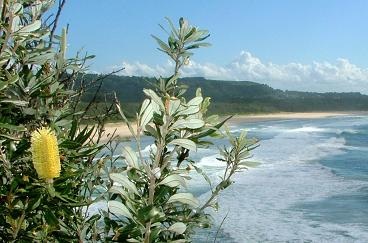 To get there - Heading from Byron Bay town centre - Head south out of Byron Bay, following the signs for Lennox Head and Ballina - After about 8 km turn left following the signs to the Broken Head Caravan Park.
Just before you reach the caravan park, there is a narrow dirt road leading off to the right into the National Park. You can see the signpost below. Follow this road to the car park on top of the hill. Space is limited so only the early birds get into the car park, be careful where you park as you may end up with a parking fine. There are signs showing designated parking areas.
If you can't get a park, head on round to the parking areas for one of the other beaches - Whites or Brays - or head back down to Broken Head Caravan Park car park and walk around the head from the end of Tallow Beach to Kings Beach.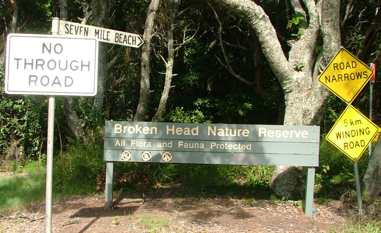 Leave Kings Beach and return to Broken Head

Byron Bay Beaches Home


Byron Bay Beaches | Australian Beaches | World Beaches | Contact us