Lanikai Beach Hawaii
Lanikai Beach Hawaii, with it's long stretch of sparkling white sand, fringe of swaying palm trees, lush tropical plants, turquoise water and seemingly endless sunshine is a pretty spectacular place and arguably one of the best beaches in the world.
The local Oahu residents consider it to be the best swimming beach in the state. The water is crystal clear, and the beach is spotless, wide and surf-free. The scenery is topped off with the view offshore of the twin islands of Mokulua and Mokumanu. The islands are bird sanctuaries and many people kayak out over the calm waters. The larger Island is the most popular with kayakers, boaters, surfers, paddlers and sailors all frequenting it's shores. It has a small beach which is visited daily and gets busy on weekends and holidays.
Lanikai translates to 'Heavenly Sea' or Royal Sea' in the local language and it's not hard to see why it got this name. There is debate that it's real name is Kaohao, which means 'the Tying'. The legend is - once upon a time, Hauna the high chief, beat up 2 women in Konane. He took the women and tied them together and led them to the beach. All sounds a bit weird if you ask me.




Windsurfing
and Kite-surfing
are popular
pastimes.


Although the islands are less than a mile from shore, care should be taken with the crossing as there is a long upwind and up-current swim for inexperienced ocean swimmers. The islands can be subject to high surf, especially during the winter and you need to be careful walking on the windward side of both the islands. Use your commonsense.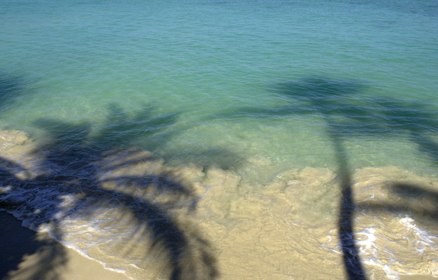 Lanikai Beach is popular for photo shoots and lures photographers and models from all over the world. You never know who you might meet there.




Leave Lanikai Beach Hawaii and head back to World Beaches

Leave Lanikai Beach Hawaii and head back home