Belongil and Belongil Beach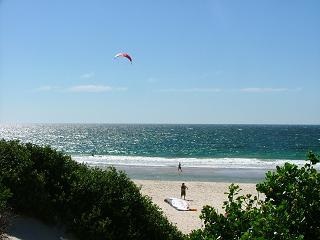 Belongil Beach is our favourite Byron Bay beach.
It runs from Main Beach car park in the centre of town opposite the Beach Hotel up to somewhere past Belongil Creek . To see where Belongil is in relation to Byron Bay and the other beaches, have a look at this map of Byron Bay




It's hard to say exactly where Belongil ends and Tyagarah Beach begins but that's part of the charm.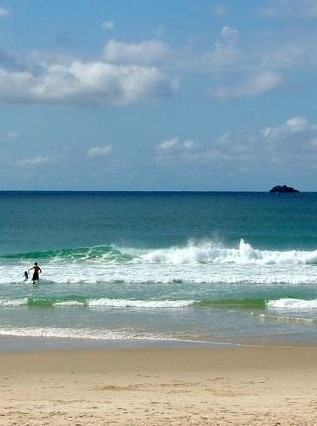 You are about 1 km from town but feel like you're a million miles from anywhere. As you walk further Byron Bay disappears into the distance, there is nothing but wild beach ahead of you, no houses in sight and it's all reserve as far as the eye can see.
If you've ever wanted to sing but never wanted anyone to hear you - this is one of the places to have a go - so grab your ipod, stretch your legs and imagine you're on Australian Idol :-)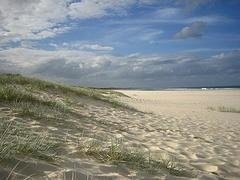 ---
Walk the Dog
Belongil Beach is a dog friendly beach from Main Beach Car Park up to Manfred Street where it turns into reserve.
The other beach in Byron where dogs are allowed is Tallow Beach which welcomes dogs from the Boundary of Arakwal National Park south to a point adjacent to Jarman Street.
There are other dog friendly beaches outside Byron Bay including part of Seven Mile Beach south of Byron at Lennox Head.



Parts of the beaches north of Byron Bay at Brunswick Heads, New Brighton and South Golden beach are also dog friendly beaches.
There is a Colony of rare Little Terns which nests near Belongil Creek so it's important not to walk your dogs up this far - it is heavily patrolled for this reason.


---
Byron Bay at night viewed from Belongil.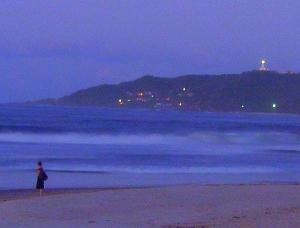 Our dog Tessa loves Belongil too.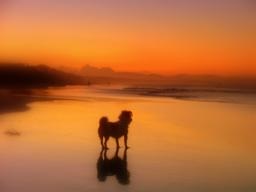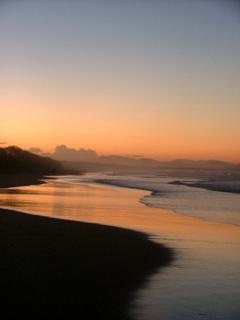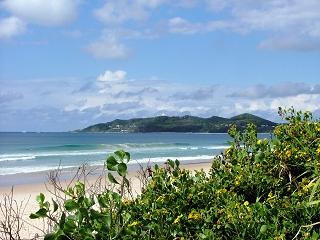 ---
Go Bare Beaches
The North area of Belongil before you get to Belongil Creek is an unofficial free beach as in clothing optional. There are usually a few free spirits skinny dipping and making the most of naturism.
While it's not a legal nude beach we have never heard of anyone getting in trouble for their nudism or of anyone being offended by others in their naturist state.
But please don't just rely on our word for it, use your own discretion and judgement and if nudist beaches or naturism offends you, avoid North Belongil. If you really want to try a naked beach but are worried about the legalities check out the other naturist beaches in the area as they are legal.
Many confuse Belongils naked beach section with Tyagarahs nudist beach which is one of many official free beaches NSW has to offer.
Byron Bay has a few other nudist beaches which we'll go into later.
If naturism appeals to you, have a look here


---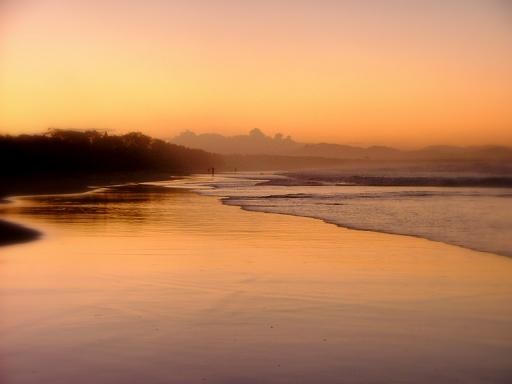 Belongil Residential Area
Belongil residential area lies 800m north of Byron town centre but feels a million miles away from busy Byron town centre. It is still pretty much untouched although is starting to change with some new development planned and some already completed. There is quite a range of holiday accommodation available at Belongil including our own 3 at Absolutely Belongil which you can find on our accommodation website ByronStay

There are quite a few residents living in Belongil and it retains a local area feel mixed with a very casual laid back vibe. It's hard to believe it's so close to Byron Bay centre.
Belongil Beach Cafe
The Belongil Beach Cafe is located in the new development of East on Byron which is all very shiny and new and gorgeous.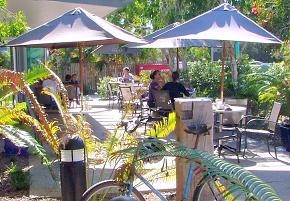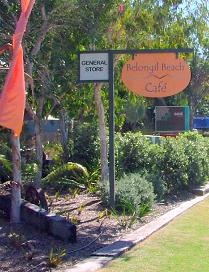 The cafe itself moved from just a few doors down when the development was completed and has been under the same management for years. As well as offering breakfast and lunch every day they also offer dinner 5-9pm Wed-Sun with gourmet pizza the speciality. Lunch is from 12-3pm. You can stock up on sundries and essentials here - including things like milk, cereal and bread.
The cafe offers good food and service, and is a great place for coffee and relaxing after the beach.
There is another great cafe a few doors away which has opened in the old cafe premises which is well worth checking out.



Belongil Beachouse
The Belongil Beachouse complex located on Childe Street and is nestled in landscaped gardens with native trees and scrubs. Belongil Beachouse offers cabins and backpacker style accommodation and should not be confused with our Absolutely Belongil Beach House which is a few doors away.



The reception area of Belongil Beachouse sells essentials including milk, bread and cereal and is open much longer hours than the cafes.
At time of writing there were no other shops in the Belongil area apart from services like Relax Haven - tel 6685 8304 - located at Belongil Beachouse, where you get a two-hour float and massage session for around $40. Most of our guests absolutely loved and raved about this - for that price it's a bargain.

Belongil has a colourful and varied history and a chequered past and it's future looks bright. Lets hope Mother Nature feels the same way about this often controversial area..
We hope you love Belongil as much as we and our guests do. We're pretty sure you will..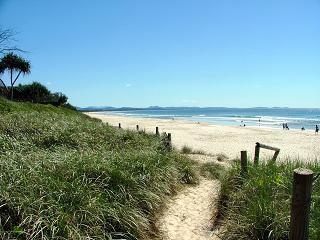 Next beach - Tallow Beach

Leave Belongil and return to the other Byron Bay Beaches


Home | Byron Bay Beaches | Australian Beaches | World Beaches | Links