Cafes and Restaurants - Our Favourites
Byron Bay has many cafes and restaurants, you'll be spoilt for choice.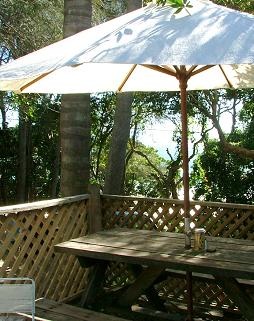 Again, the alleyway has a great selection of cafes and we like them all along here but we usually end up getting the gourmet fish and chips and taking them up to the rocks at the main car park where we can watch the surfers at the wreck as the sun goes down behind them - creatures of habit

There are a number of fine dining restaurants, numerous mid-range and plenty of 'cheap & cheerful'.
We're more the 'cheap & cheerful' type with the occasional splash in the mid-range.
The top-end rarely gets a look-in with us but there are some great fine dining restaurants and our guests occasionally tell us about their experience and let us know where their favourite cafes and restaurants are :-)




Our Favourite Cafes and Restaurants
Our personal favourite places to eat are listed below.
This is not a reflection on any of the other fine eateries - more a reflection on our preference for familiarity - in short - we're lazy!!
Gourmet Fish and Chips in the alleyway behind the Beach Hotel - as we already stated earlier

The Pub Grub at the Beach Hotel - good quick food - best view - and a side order of beer - particular favourite is the Greek Salad - it's exceptional 9 times out of 10
The Cardamon Pod at the end of Byron Bay Pier arcade off Lawson Street, next door to Sushi wave - good fresh vegetarian and vegan fast food with soul
Bay Burger on Jonson Street opposite the Hotel Great Northern - best burgers
Pizza from the Backroom kitchen at the Great Northern Hotel - best pizzas
Belongil Beach Cafe - good food and service but also just cos it's at Belongil

The Pass Cafe at the end of Clarkes Beach - we don't come here often but it is a great location and also does take-out. A great spot for a snack after you've been surfing at the pass.
Clarkes Beach Cafe - a great spot overlooking Clarkes Beach - at time of writing it was closed down but we are told it is reopening soon so hopefully it will be operational when you're here - it's well worth checking out.
Sushi - There are several sushi restaurants in town including Sushi Wave at the end of Byron Bay Pier arcade off Lawson Street (near the round-about with Jonson Street) and another located in the Woolworths carpark arcade area off Jonson Street.


---
There are many more Byron Bay cafes and restaurants which we haven't included here, they are just too numerous to mention and the landscape of the cafe culture is very changeable. You will no doubt find many great places to eat and socialize but be warned - don't head out for dinner after 9 or 10 pm and expect to find a great selection of places to eat - part of the charm of Byron is how it has maintained it's small town ways too. Most places stop serving food after nine.

We'd love to know where your favourite place is and why.






Comprehensive List of Restaurants in Byron Bay

Leave Byrons cafes and restaurants and return Home


Home | Byron Bay Beaches | Australian Beaches | World Beaches | Links