Whites Beach, Brays Beach and the Razorback


Whites Beach and Brays Beach are 2 beautiful secluded beaches that not many visitoers know about. Located at Broken Head just south of Byron Bay. They make you feel like you're a million miles from anywhere, washed up on an Island paradise.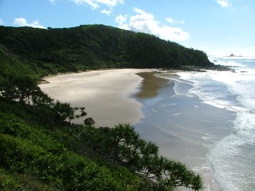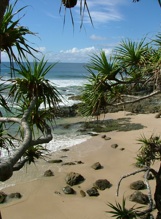 The beach is fringed with sub-tropical rain forest and shady pandanus palms which seem to thrive along this rocky coastline,
The journey to White's Beach rewards you well with white sand and seclusion.
There ia a carpark a little further along from Kings Beach car park, where you can leave your car and take the walking track down to the beach.

Virtual Walkabout - Byron Bay Nature Reserves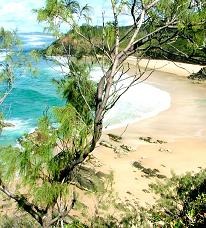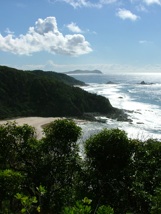 The walk down through natural rainforest is delightful over a well worn path, with stunning ocean views and vistas until you arrive down at a beautiful secluded beach.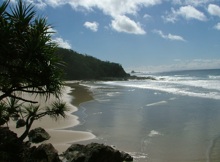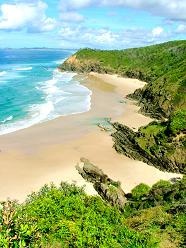 As with Kings Beach, the walk down is not that far - it takes roughly 10 minutes, but it is a bit steep in places so don't bring loads of stuff you won't need. There are no shops or supplies to be had nearby so make sure you bring some water and food and sunscreen if you want to stay down here a while....and you probably will..it's very beautiful.
It's also another good whale-watching spot.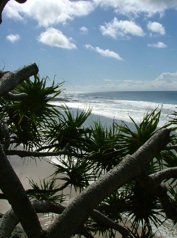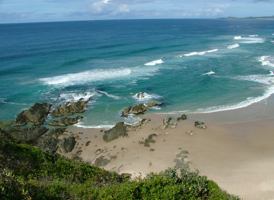 Razorback is a rocky outcrop of jagged rocks separating Whites Beach and Brays Beach. It's not hard to see why it got the name Razorback.
To get there - Heading from Byron Bay town centre - Head south out of Byron Bay, following the signs for Lennox Head and Ballina - After about 8 km turn left following the signs to the Broken Head Caravan Park.
Just before you reach the caravan park, there is a narrow dirt road leading off to the right into the National Park. You can see the signpost below. Follow this road passing the car park on top of the hill, which is the car park for Kings beach. Keep gong along the dirt road til you get to the next car park. Space is limited here also, but Whites is a much quieter beach than Kings. Be careful where you park as you may end up with a parking fine. There are signs showing designated parking areas.






Return to Byron Bay Beaches

Leave Whites Beach and Brays Beach and return Home


Byron Bay Beaches | Australian Beaches | World Beaches | Contact us